The Value of Upcycling With Atelier Riforma

Reimagining British Style in Cactus Leather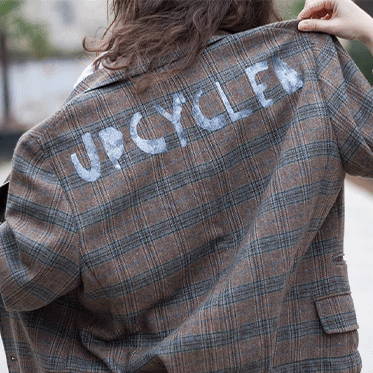 How do we transform our used clothes into new wearable garments? The answer is what Atelier Riforma is doing, through the use of technology this sustainable circular business model expands the lifespan of textiles avoiding them to become waste.
Sustainability, whether environmental, social, or economic, is the main value for Atelier Riforma, a fashion startup that is changing the destination of garments after being disposed of. For the founders, sustainability is all about "respect for what is around us, whether it is two metres away or on the other side of the world". With sustainability at its core, Atelier Riforma combines innovation and technology to achieve the concrete objectives of not only reducing the negative impact of the fashion industry on the environment but safeguarding and protecting it. To reduce textile waste, Atelier Riforma uses this "waste" as a raw material to produce circular clothes.
"Sustainability is all about respect for what is around us, whether it is two meters away or on the other side of the world."
Founders of Atelier Riforma
In the founders' vision, garments' values are made out of two components, wearability, including its aesthetic and comfort, and its durability, how long a piece can be worn without losing its quality. However, they point out that in the past years the second axis became almost irrelevant for the majority of customers, and clothes went from being durable to disposable goods. In most cases, those spend more time as waste than as its primary function as garments. With the goal to change this mentality, Atelier Riforma was created.
The project was born out of the idea of two friends, outsiders of the fashion industry, that were "motivated to do something positive". Wanting to somehow help the planet they notice that the fashion industry was an industry that needs significant help. So their solution was to fight its environmental damage through the implementation of a circular economy business. Atelier Riforma started as a hobby, however, these two entrepreneurs found themselves so passionate about it that this was established as a company at the beginning of 2020.
Photo from Atelier Riforma
At first, the idea of Atelier Riforma was to create a circular economy through the so-called sartorial upcycling. This is when the business collects used clothes, adds value to them through tailoring, and personalization, and later would re-sells them. Atelier Riforma would re-sell their clothes on an e-commerce platform, which gave them the title of the first Italian e-commerce dedicated to upcycling. Thanks to this business model, Atelier Riforma was able to build a network with more than 25 including designers, tailors, fashion schools, and social tailoring projects …
However now the focus of this start-up changed. Now the spotlight goes to the sorting process and technology, to allow the circular economy to expand to a large scale. With this, Atelier Riforma created an artificial intelligence technology, Re4Circular, that allows the company to better control textile waste. Through cataloging and digitalizing this waste and connecting it to a circular digital marketplace. This technology was created as a systemic answer to the post-consumer clothing problem, allowing this waste to be redirected toward a more circular destination. Another major goal of Re4Circular is to facilitate fashion brands to find already existing materials and used them to produce their new garments.
The company's prospects for the future are the focus on one hand on the refinement of Re4Circular in order to make it automatic, with the long-term goal of becoming a real industrial machine used by fashion companies to mitigate the textile waste. On another hand, the focus will also be on customer acquisition on the platform.
For those who are interested in boarding in the sustainability entrepreneurship world, the founders of Atelier Rifoma have a word of advice: Be concrete. They urge young entrepreneurs to take sustainability as a serious issue and not something shallow. If you want to make a difference sustainability has to be part of your business core and not as done by many big companies, using sustainability as a marketing tool, known as greenwashing.