Your new top 5 Second-Hand Fashion shops: Berlin Edition
turn it sustainable with our tips!
As you loved our Milan's collection of the most cool second-hand fashion shops, we'll let you explore another selection, this time from Berlin. Discover the your next favorite shops in the capital!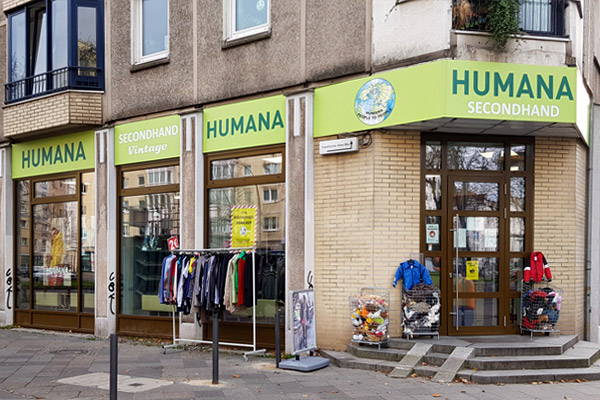 Berlin is undoubtedly one of the most fashionable cities in the world and iconic for its street style. All it takes is a stroll through the districts like Kreuzberg's East Side gallery, Friedrichshain's coffee shops, or Mitte's boutiques, to see Berliners looking edgy and cool. Berlin's streets are full of creatives, artists, writers and designers, and sense of style and individuality defines the city.
Berliners may be trendy, but there is something uniquely innovative about the way they achieve this. They are notorious for sourcing stylish and sustainable wardrobes from second-hand shops. You might need all black to get into Berghain, but anything goes in Berlin, and a great way to find hidden gems is to shop in vintage stores.
Here are 5 second-hand fashion shops in Berlin that will have everyone asking "where did you get that?!"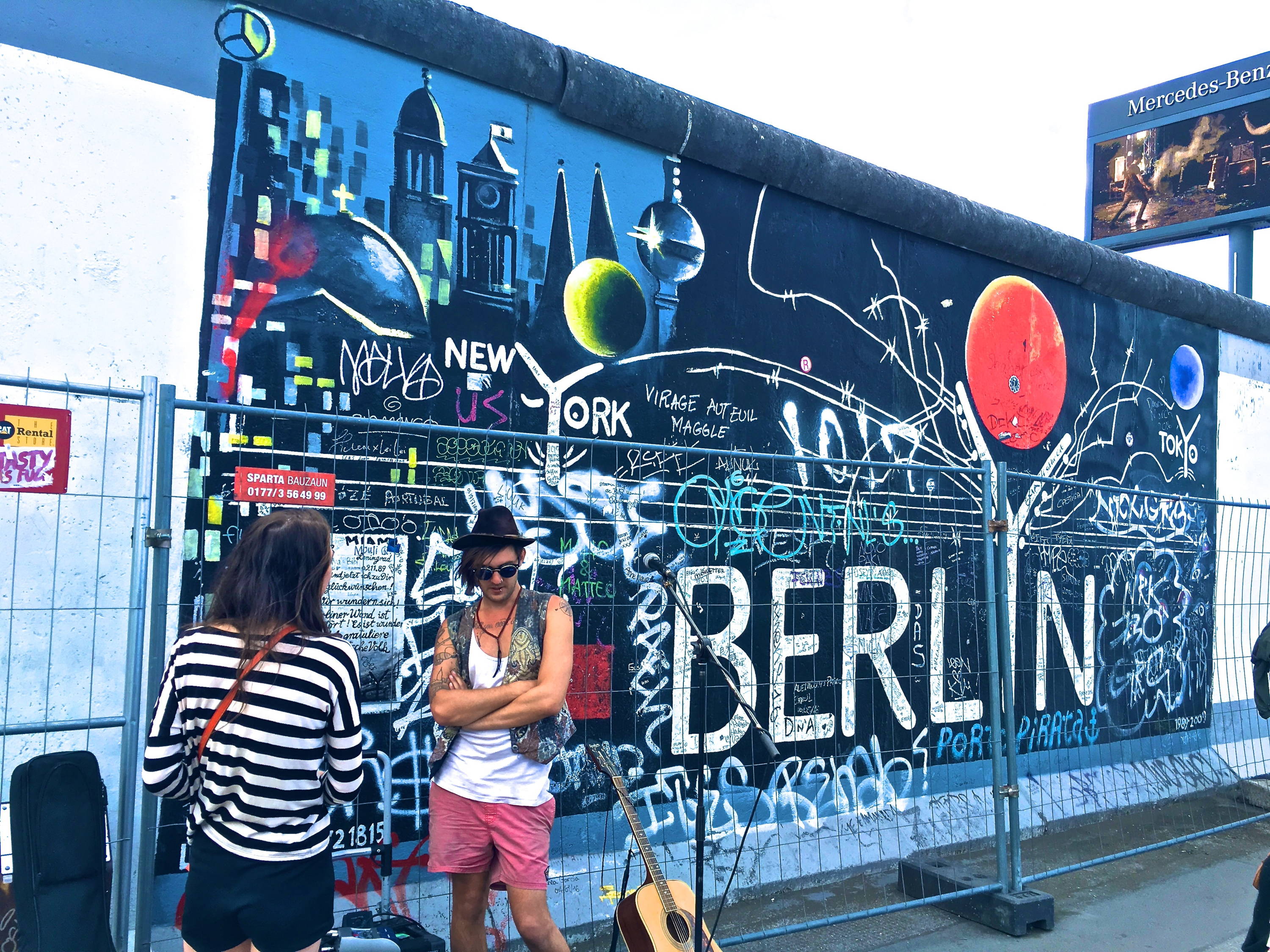 #1 Humana

Address | Frankfurter Tor 3, 10243 Berlin
Opening Hours | Monday – Saturday 10 am – 8 pm
Humana is a great place to start your Berlin pre-loved fashion tour. It is Europe's largest second-hand department store and has five floors of high-quality vintage clothing.without a doubt, you'll find something you can't put down. Humana is full of great finds, stocking/housing everything from minimalistic fashion to glitz and glam. Even better, all the prices are low, so you will definitely bag a bargain here, and the best part is it won't make a dent in your bank balance. Make sure you have lots of time to kill to ensure you don't miss a hidden gem.
#2 Made in Berlin
Address | Neue Schönhauser Straße19, 10178 Berlin
Opening Hours | Monday – Saturday 12 pm – 8 pm
If you want an alternative shopping experience as fun as going on a merry-go-round, then Made in Berlin is the shop for you. It's another one of the largest second-hand shops in Berlin, with fun second-hand clothes over two large floors. You will feel like you have walked into Alice in Wonderland's closet as you stroll around and see the kaleidoscope of brightly coloured rails. If you're looking for an outfit to wear to a techno club, head downstairs to the cellar, where you will be sure to find some 90s rave gear. The rails are full of phat pants, boiler suits, jumpsuits, and even luminous tracksuit trousers and matching zippers. If you're after smiley face prints, visors or a little neon, you will find it in this thriving shop.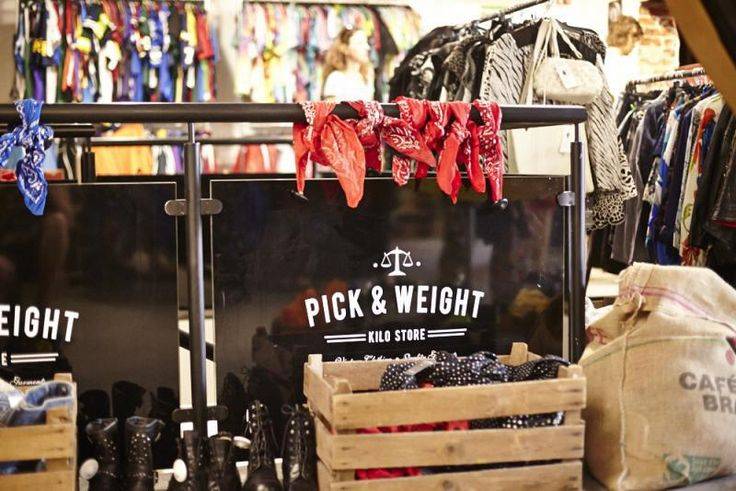 Picture by Christian Bendel
#3 PickNweight Vintage Kilo Sale
Address | Alte Schönhauser STR. 30, 10178 Berlin
Opening Hours | Monday – Saturday 12 pm – 8 pm
Berlin is a hidden gem for vintage fashion, and Picknweight is the city's crown jewel. There is something enchanting about wearing garments filled with memories, and there is something enchanting about buying vintage clothes from this shop. All the items are sorted and easy to find, making it a seamless shopping experience and a joy to shop in. Not only is the shop in a great location, but their pricing system is dynamite. Your total depends on clothings' weight by the kilo. Once you have picked your pieces, you take them to the scale , and the shop assistant weighs them and tells you the price. The store has a wide variety of vintage clothing suitable for all ages and sizes, the store has a great layout with plenty of fitting rooms, so you can try it before you buy!
#4 Paul's Boutique
Address | Oderberger Straße 47, 10435 Berlin
Opening Hours | Monday – Saturday 12 pm – 8 pm
If you collect trainers, we have the place for you - Paul's Boutique. They have a vast selection of sneakers in all different shapes, sizes, colours, styles and brands. The shop has lots more to offer, from handbags to coats or jeans to t-shirts. Paul's Boutique is in trendy Prenzlauer Berg, so if you want to check out this stylish second-hand shop, why not make a day out of it and head over on Saturday?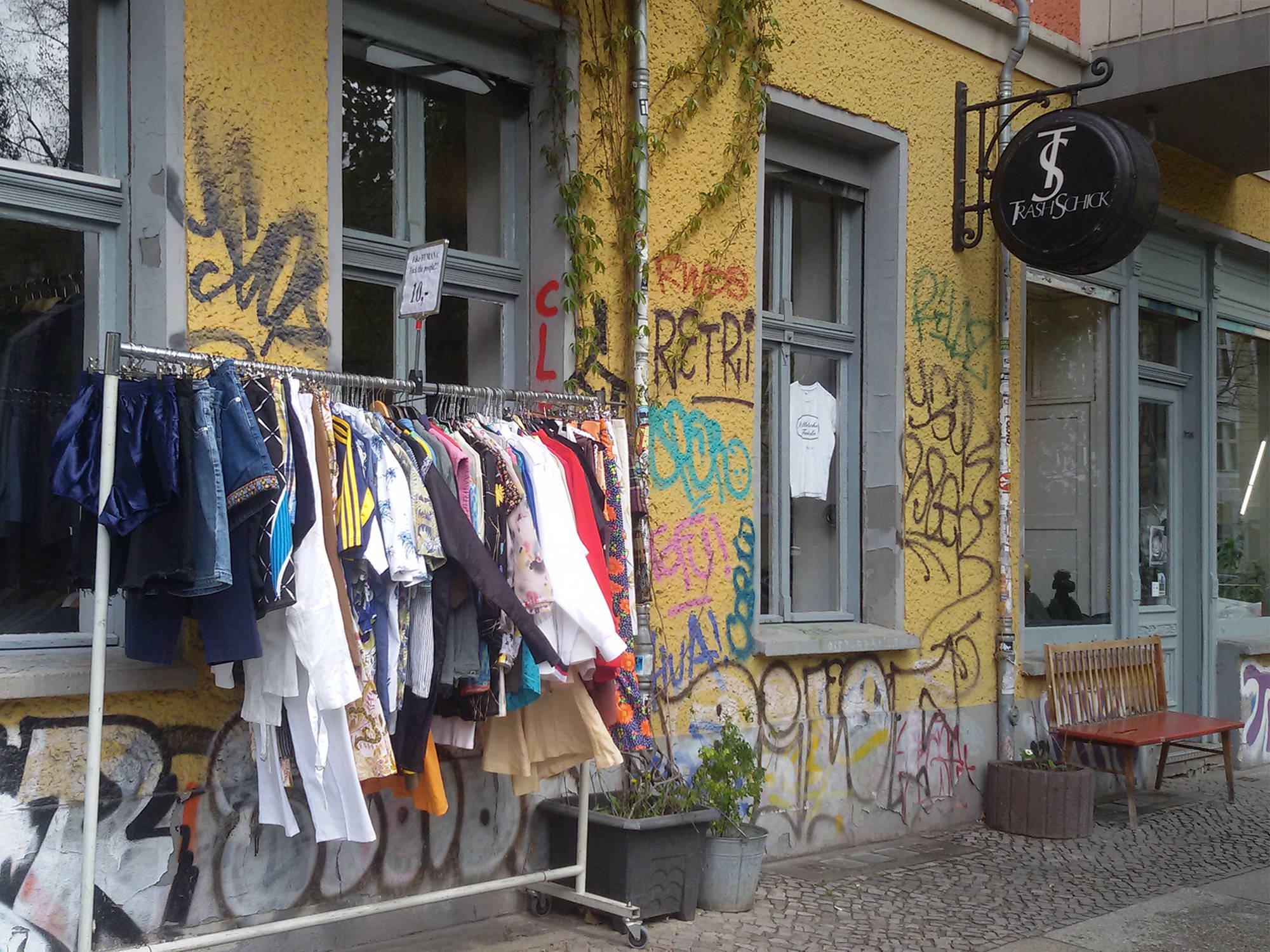 Picture by Friedrichshain-Kreuzberg TV
#5 Trash Schick
Address | Wühlischstraße 31, 10245 Berlin
Opening Hours | Monday – Saturday 12 pm – 8 pm
Trash Schick is located in Berlin-Friedrichshain and offers quality second-hand clothes for those who like to wear something unique. What could be better than owning garments that no one else has apart from you? A bargain! Well, this store gives you 2-for-1, unique clothes at bargain prices. If you want to stand out in Berlin, then this is the thriving shop you need to visit. They have everything your heart desires - from any decade. The shop has been around since the 80s, so you will likely find a great selection of power suits, legwarmers, dresses in padded shoulders, spandex and Lycra tights and other accessories from decades to come.