Six plant-based recipes for a cozy autumn
Turn it sustainable with our tips!
Autumn is here, and so is everything pumpkin spice. If you're looking for simple, plant-based recipes that incorporate fall flavors (and maybe even help you reuse your leftovers), you've come to the right place! Here are six recipes that incorporate healthy foods and a cozy feeling.


Picture by This Savory Vegan
Life becomes much more exciting when we invite variety into our meals through new recipes and flavors. The autumn season is as good of a time as any to try adding new, cozy recipes into your meal plan. If you're looking to add a fall twist to your everyday ingredients, we at Staiy have got you covered. So, here are some cozy and fun fall recipes that you can add to your collection!
If you enjoy pasta and pumpkin, try immersing the two to create a simple and unique dish. All you need is bucatini (or a plant-based pasta of your choice) and pumpkin puree. Toss in some cherry tomatoes and spinach for bright colors and a fresh taste! Adding some basil can also enhance the flavor of this fun Italian meal.
2. Chickpea and pumpkin curry.
Curry is a cheap, delicious and super cozy fall dish. You can make a quick, healthy, plant-based version at home with a few main ingredients and lots of spices. This simple dish takes about 30 minutes to make and uses fresh ingredients you may already have in your home!
Start by sautéing onion, garlic, and your choice of spices (cumin, coriander, cardamom). Then, add vegetable stock, tomato paste, chickpeas, pumpkin, lentils and tomatoes. Simmer, then serve with brown rice and top off the dish with yogurt and chopped coriander.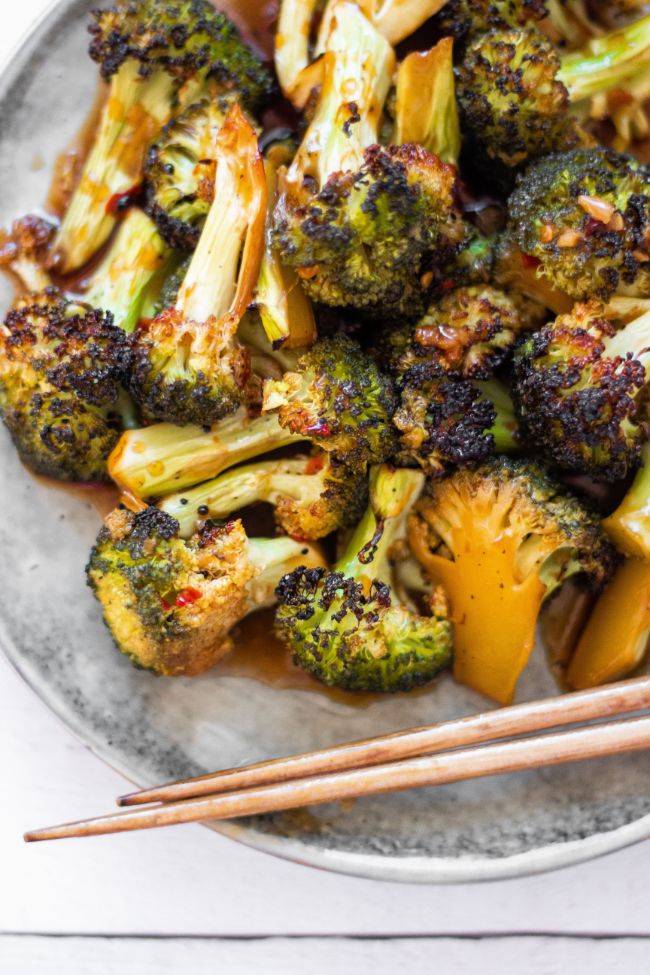 Picture by The Green Loot
3. Roasted broccoli with sweet chili sauce.
Looking for a simple yet flavorful dish that is both plant-based and scrumptious? This recipe calls for only five ingredients: fresh broccoli, sweet chili sauce, soy sauce, oil and ground black pepper. Coat fresh broccoli florets with the sweet chili and soy sauce mixture (including oil and pepper) and roast for 20-25 minutes in the oven. Simple and tasty!
4. Balsamic soy roasted garlic mushrooms.
Another way to enjoy roasted vegetables is with this recipe. Mix together two pounds of mushrooms with oil, balsamic vinegar, soy sauce, chopped garlic, thyme, salt and pepper. Arrange on a baking sheet and roast in the oven for just 20 minutes!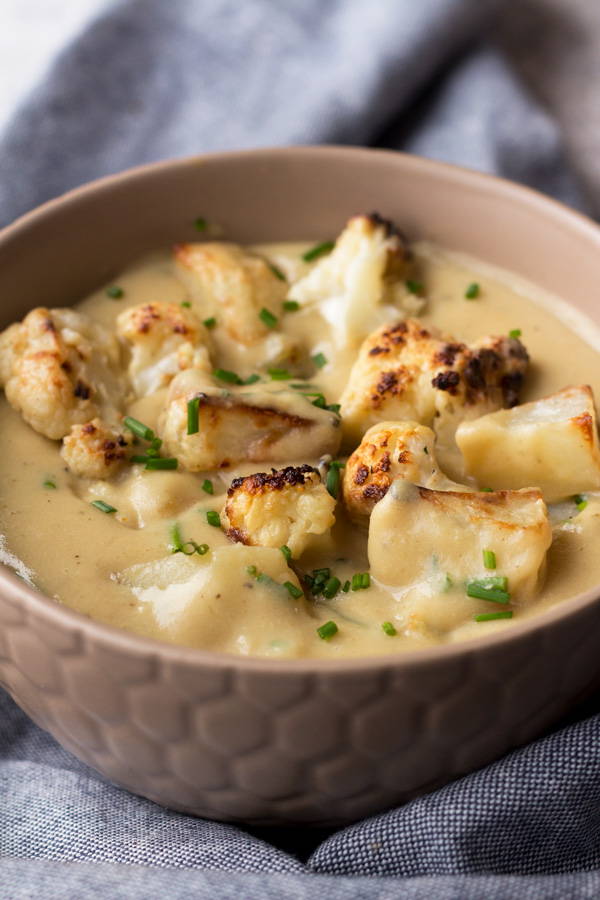 5. "Cheesy" cauliflower potato soup.
Soup is a staple dish during the chilly autumn season. This plant-based option takes some time to make, but the cozy feeling is worth the extra effort. Start by roasting garlic, cauliflower florets, potatoes, rosemary and onion in the oven, seasoned with salt and pepper and drizzled with olive oil. Bake for 30 minutes before sautéing the mixture in olive oil and vegetable stock. Simmer for 10-15 minutes before adding nutritional yeast and mustard, then voila! This cozy dish will have you basking in all the fall feels.
6. Roasted sweet potatoes and brussels sprouts.
It doesn't get much simpler than this combination, but it can get spicier. For this recipe, you'll need one pound of Brussels sprouts, a large sweet potato, garlic, olive oil, cumin, garlic salt, salt, pepper, red wine vinegar and thyme. We know, it sounds like a lot, but once you mix all the vegetables and other ingredients, all you have to do is lay the mixture on a baking sheet and bake for 40-45 minutes in the oven. You may never want to eat sweet potatoes and Brussels sprouts the normal way again!